Careers at Americana
We are as dedicated to our team members as we are to our residents. At Americana, we work hard to help you expand your skill set and grow in your career.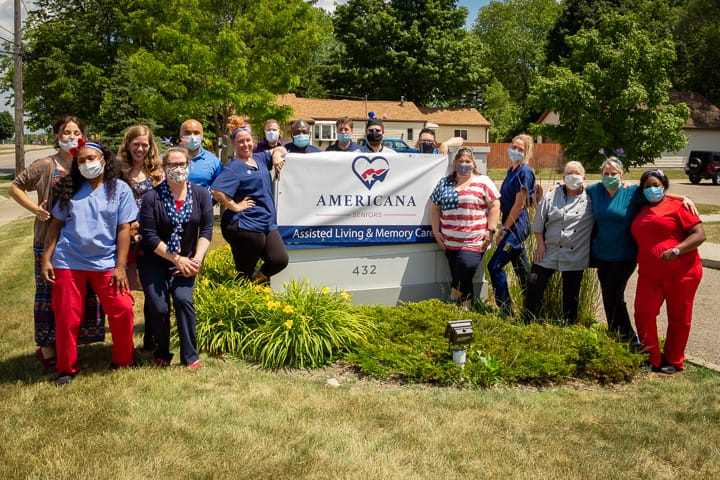 We make sure you are well taken care of so you can focus on taking care of the health and safety of our wonderful residents.

Competitive Pay
IRA with a 3% Match
Team Member Referral Program

Health Insurance
Dental Plan
Vision Plan

Paid Time Off Policy (PTO)
Weekly Pay Checks
1 FREE Meal Per Shift
A few thoughts from our current team members:
Every other place I have been at I was treated like a robot, but at Americana, I am very close with everyone, and we get to have fun with the residents!
I love my residents!
When someone new shows up on the job, we treat them like family.
Make sure your heart is in it if your applying for a job at Americana. You really need patience and passion. If you have those two things then you'll fit in great!
I want to live on a yacht when I am older so the IRA and life insurance benefits are a really nice touch.
Working in customer service jobs previously, like restaurants, really helped me prepare for this job.
At Americana, we really treat the residents like we would treat our own grandparents.
It's a great place to work, come on in!
I am glad they offer health insurance. That is a big deal for me.
Everything done here is done out of love.
Bloom Where You're Planted!
We love this ancient adage because it encapsulates the core of our culture. Our talented team seizes each day and makes the best of every situation. We love taking a challenge and transforming it into an opportunity.
We do focus on creating great experiences for our residents, but we still manage to have lots of fun at work. We hope you will consider joining our team as we are always looking to add more stars!